CAA Mobile Tire Change – Closed for the Season.
Service will return in October.
Let our expert technicians come to your home to change your tires, so you can go about your day. Enjoy convenient, safe and reliable service.
Whether you're working from home or hanging out with the family, we know you've got better things to do than spending your free time getting your tires changed.
CAA Mobile Tire Change service provides Members a hassle-free and safe experience. Members can enjoy convenient, at-home season tire changes performed by expert technicians.
Why choose CAA Mobile Tire Change service?
Your time, your place.
Our service is available seven days a week. Book your appointment in advance and we'll come to you.
Save time and effort.
Let our expert technicians handle the work while you go about your day.
We put safety first.
Our expert technicians are trained and equipped to provide service quickly and safely.
NEW! Additional CAA Auto Policyholder Discounts.
Existing CAA Members who are also CAA Auto Insurance policyholders can save $30 on their tire swap price*. Limited bookings available.
CAA Mobile Tire Change Pricing.
Not a CAA Member yet? Join today!
Discount for two vehicles.
Have two cars at home? Save $20 on the second tire change. Please make sure to book back-to-back appointments.
CAA Auto Insurance Policyholder Discount.
Existing CAA Members and CAA Auto Insurance policyholders save an additional $30 on tire change*. Limited bookings available.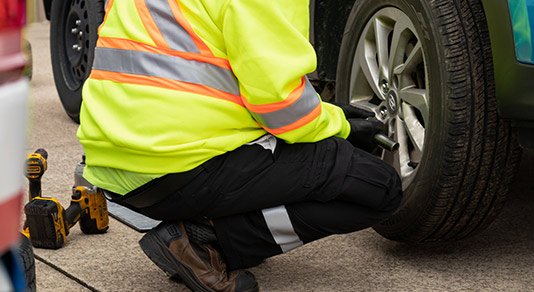 Safety First.
We're taking extra precautions to make sure your automotive needs are met and your health is protected. Our service will limit any direct contact between you and your technician. Now, more than ever, we're working to protect our Members and the things they care about most.
What you need to know before you book your appointment.
This service is available to active CAA Members in select areas within South Central Ontario from April 19th to May 31, 2021.


This service can only be performed on cars, SUVs and trucks up to ¾-ton. We cannot service commercial vehicles, trailers, RVs or campers.


Your tires must be mounted on rims and be easily accessible to the technician


This service is only available on residential driveways. There needs to be adequate space on all sides of your vehicle for the technician to work safely and your driveway must be clear of debris, ice and/or snow.


If your tires have locking lug nuts, please ensure the key is available.


It can take up to 90-minutes for a single set of tires to be changed.


The technician will reset the tire sensors before completing the service as long as the set that is being installed has sensors.


To receive the promotional $30 discount you must be a current CAA Auto Insurance policyholder as of April 18, 2021 and be a current CAA Member in good standing (CAA Membership dues paid in full by membership expiry date). The promotional discount is one per household, valid for the first 2,500 mobile tire change appointments only and is subject to change without notice.


CAA recommends retorquing your wheels within 100-150km following the mobile tire change service.
Frequently Asked Questions
CAA Mobile Tire Change is closed for the 2021 spring season.
The service will return in October.