caa rewards®
Preferred Dining program.
For a limited time, CAA Members save 15%¹ at four popular restaurants.
Forget the dishes tonight!
Save 15% on your meal¹ at Harvey's, East Side Mario's, Montana's and Kelseys Original Roadhouse when you show your CAA card. Why not try one of these famous dishes today! Valid for dine-in and walk-in takeout.
February 3 to March 1, 2020 (excluding February 14).
More delicious deals.
The CAA Rewards Preferred Dining program is cooking up some exciting offers for CAA Members. If you are a CAA Member, you can save at select restaurants by swiping your CAA Membership card.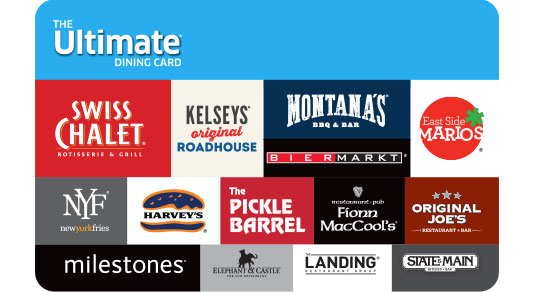 Save 5%⁵ on The Ultimate Dining Card®.
Save 5% on The Ultimate Dining Card®, plus get free standard shipping when you buy online. Enter your CAA card number at checkout.
Frequently asked questions (FAQ).
Which locations are included in this program?
Currently, these offers are only available at participating New York Fries, Swiss Chalet, Harvey's, Kelseys, The Pickle Barrel, Milestones, Montana's, Fionn MacCool's, D'Arcy McGee's and East Side Mario's restaurants in Canada.
How do I get my discount?
Simply advise your server and present your valid CAA Membership card before ordering.
What if I do not have my valid CAA Membership card on me?
Without a valid CAA Membership card, these restaurants cannot validate if a Member is eligible to receive the offer. Unfortunately, the offer is not available without a valid CAA Membership card.