membership
The CAA Mobile App™
Unlock the full power of your CAA Membership.
If you love instant savings, collecting rewards on what you buy and CAA Dollars®, download the CAA Mobile App today. It's quick and easy to go mobile with your Member benefits, find exclusive deals, track savings or request roadside assistance – all within the convenience of a single app.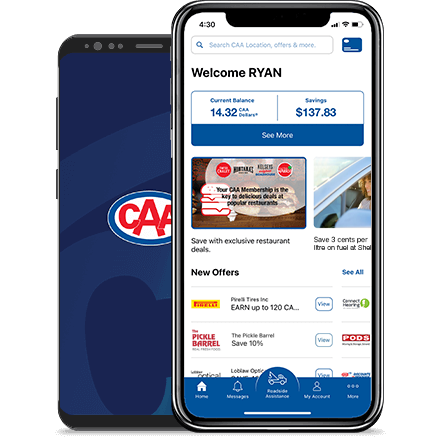 Open the possibilities of your CAA Membership.
Use the app to get over 200 Member-exclusive deals when you use your CAA Membership card to save on apparel, restaurants, the latest tech, hotel stays and more. You can also earn CAA Dollars® and redeem them to renew your CAA Membership, CAA Store purchases and more.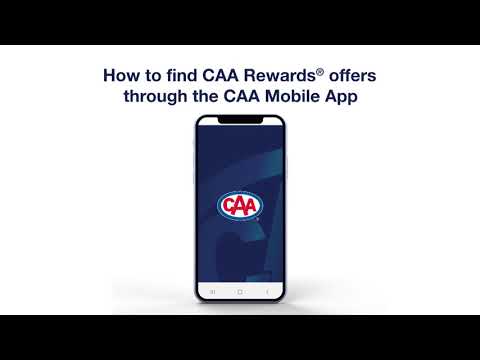 CAA Rewards®.
Learn how to easy it is to find the latest offers from CAA Rewards partners and even locate the nearest one to your current location.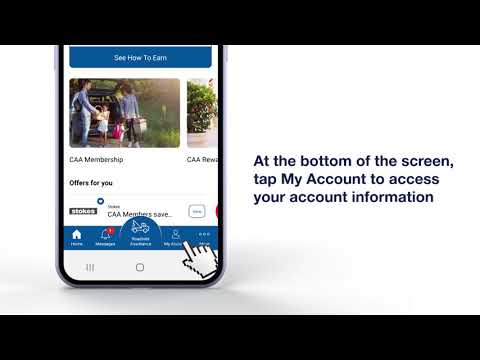 My Account.
Learn how to easily manage your membership on the App, see how much you have saved and/or earned in CAA Dollars plus so much more.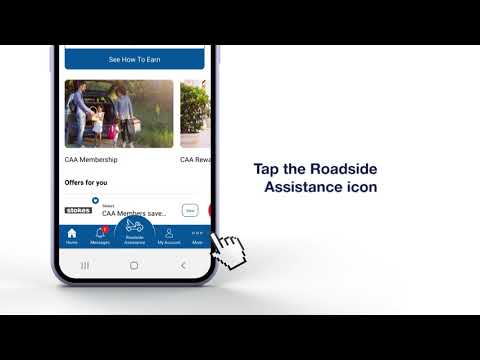 Roadside assistance.
Find out how to submit a request for roadside assistance and then track the arrival of your service vehicle to your location.
Get the App and put CAA Rewards® right at your fingertips.
Check out new or nearby deals.
Create and view deals in your Favourite Offers list.
Get notifications of new offers, driving/weather tips and roadside service updates.
Locate offers, CAA locations, CAA Approved Auto Repair Service facilities and more.
See your current CAA Dollars® balance, savings and transactions.
PLUS
Easily access main menu items and content.
Log in with your fingerprint or by facial recognition.
View and update your information.
Show the digital version of your membership card.
Your keys to making the most of the CAA Mobile App.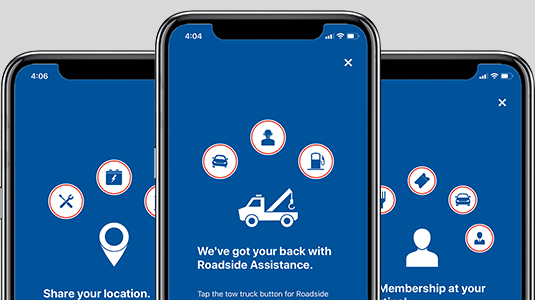 Tutorial.
Get the lowdown on the app when launching it for the first time.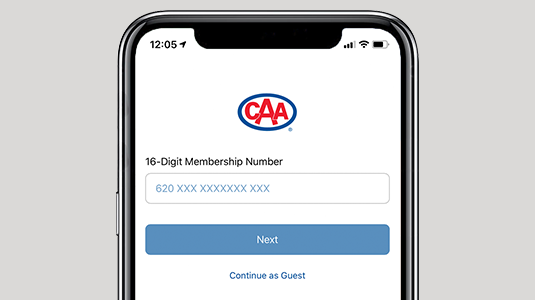 Log in.
For the best experience, log in using your CAA Membership number, username and password for MyAccount.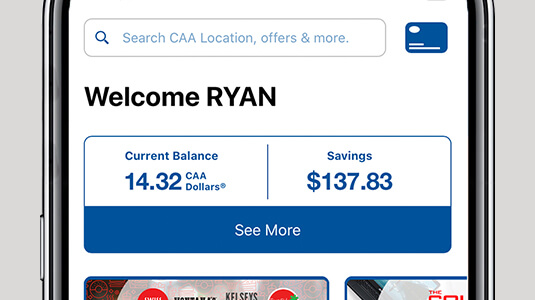 Home screen.
View your Savings and CAA Dollars balance, find offers, get tips or search for CAA locations.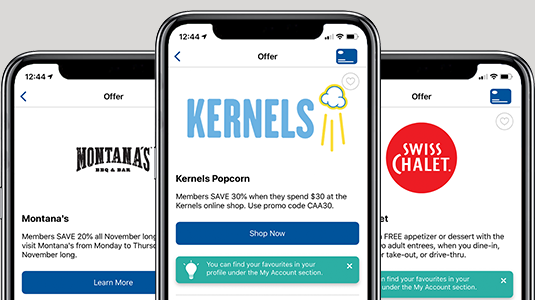 Offer Details.
Discover CAA Rewards® deals, locations and directions, shop online, add offers or partners to favourites and more.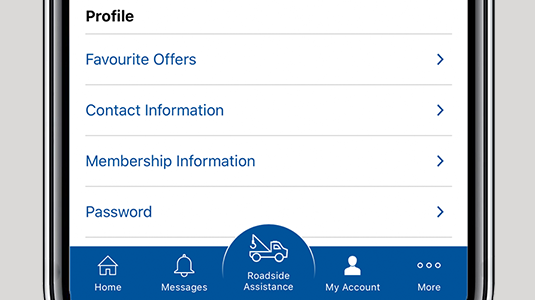 My Account.
View your balance and favourite offers. Update contact information, change password and add/edit vehicle info.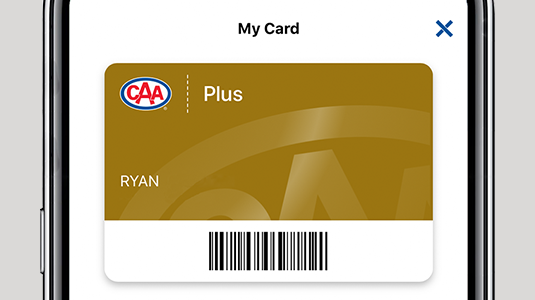 My Card.
Display the digital version of your card. It can also be added to Apple Wallet or Google Pay.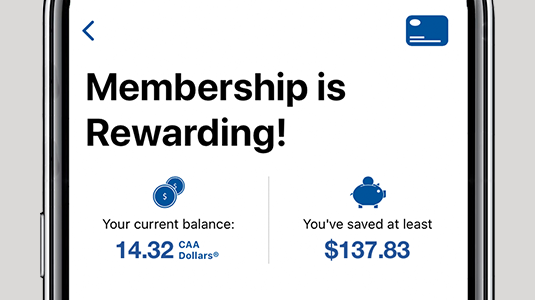 Transactions.
See your transaction history, plus learn how to earn more CAA Dollars and how to redeem them.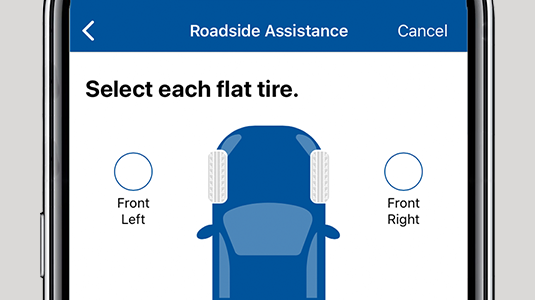 Roadside assistance.
Request the type of roadside service you require directly from the app.
About our App online accounts.
CAA Mobile App accounts are now linked with online accounts on caasco.com
If you currently do not have an online account on caasco.com or the new CAA Mobile App, you can create one here or on the CAA Mobile App.
Creating an account on the CAA Mobile App automatically creates an online account on caasco.com if you do not already have one. Both accounts will require the same username and password.
If you already have an online account at caasco.com, you must use the same username and password to log in on to your account on the CAA Mobile App.
Regardless of where you create it, your account can be easily accessed with the same username and password.
---
Managing your account and your membership
You can use your account on caasco.com and on the CAA Mobile App to make changes to your password or your personal details. You can also manage your membership through your account – renew, upgrade or add Associates!
Changes made online or through the app will be reflected in your account simultaneously.
---
Having trouble logging in?
If you have an existing online account but cannot remember your existing username and/or password, you can retrieve it in two ways: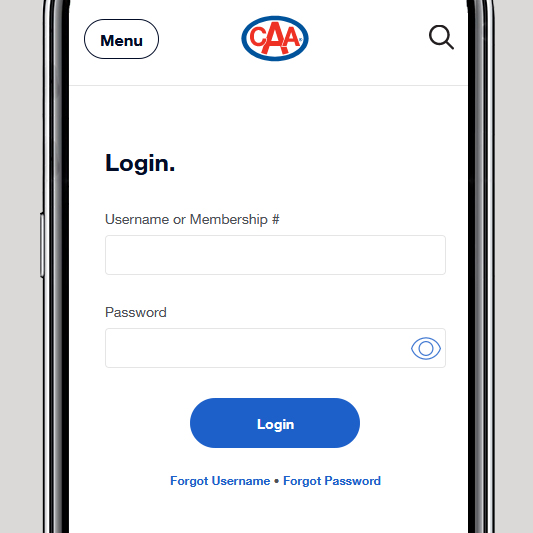 Recovery Option 1: on caasco.com
Use the Forgot Username and/or Forgot Password function on caasco.com
Login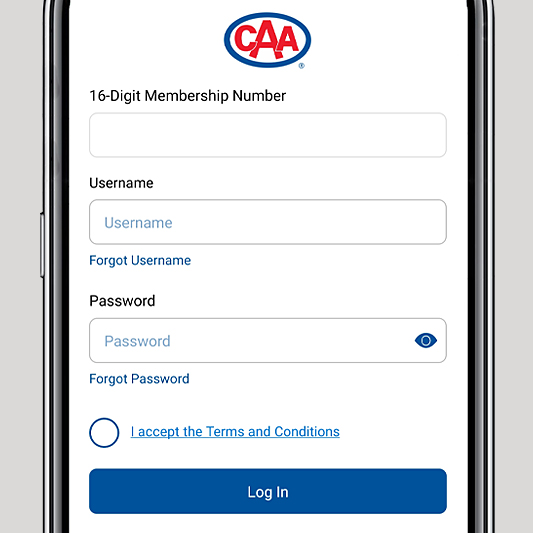 Recovery Option 2: on CAA Mobile App
Once you have provided your membership number to the app, you can retrieve your username and/or password from the app login screen.