Stranded Driver
Emergency car kit checklist.
In case your travels take an unexpected turn, you'll want to be prepared by having the following items in your vehicle: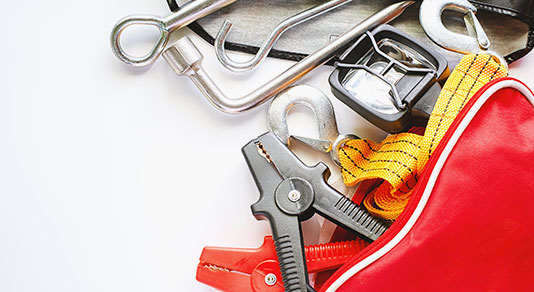 Cell phone with charger
Pencil and notebook
Vehicle owner's manual
Emergency service information
Flashlight with extra batteries
Drinking water and snacks
Booster cables and tire pressure gauge
Flares, warning triangles or reflectors
Brightly coloured flag or scarf
Windshield washer fluid and wiping cloth
Coolant and fire extinguisher
Ice scraper, snow brush & snow shovel
Blanket
Candles and waterproof matches
Umbrella
First aid kit
Your CAA Membership card
Important numbers.
Police and Ambulance
911
CAA Insurance Claims
CAA Roadside Assistance
GTA: 416-222-5222
Cell: *222
Available 24 hours a day, 365 days a year.