Stranded Driver
What to do if you are involved in a car collision.
Be prepared if your travels take an unexpected turn. Collisions can cause a lot of stress and confusion. Be prepared, be cautious, be safe and follow our tips should you get involved in a collision.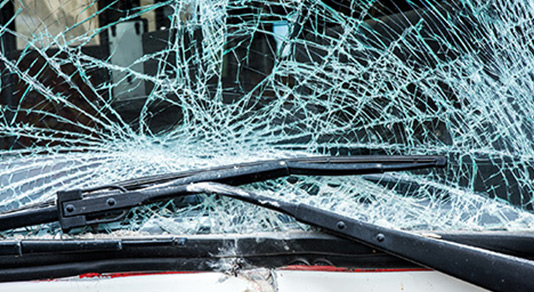 1. If you are injured, don't move; stay in your vehicle.
2. Dial 911 if:
Someone is injured.
There is significant damage to any of the vehicles involved in the collision.
You think the other driver may be guilty of a Criminal Offence, such as impaired driving.
NOTE: In Ontario, all personal injury collisions and all collisions resulting in property damage of $2,000 or more must be reported to the police.
3. Follow the instructions given to you by the emergency services on scene.
4. If it is safe to do so, move the vehicle(s) to the side of the road. Turn on your hazard lights and use warning triangles or flares if available.
5. Record details of the collision.
Include the time, date and location, speed of your vehicle, weather and road conditions. Once you are in a safe location, take photos of the scene with a camera or mobile device, or draw a sketch of it.
6. Exchange information with the other parties involved.
NOTE: Regardless of the circumstances, never admit fault for the collision or assign blame to the other driver. Your Ontario insurance company will determine fault based on "Fault Determination Rules" regulated by the provincial government. Never sign any documents regarding fault or promise to pay for damages.
7. If there are witnesses, get their names and phone numbers.
8. If you need to be towed to a Collision Reporting Centre (CRC):
Contact your insurance company before signing or authorizing any towing or other documentation.
All vehicles that require a tow must go directly to a CRC from the scene of the collision. Have your vehicle towed to the CRC most convenient to you, and accompany your vehicle.
Bring all documentation to the CRC, including driver's licence, ownership, insurance, details of the collision and information about the other parties involved.
You must report the collision in person, to a CRC within 24 hours of the collision if:

Damage is valued at more than $2,000 to vehicle(s) or property.
The police were not present at the scene.
The damage to your vehicle is minor and you can drive it safely to the CRC.
9. Call the Claims Department of your insurance company as soon as possible.
10. If you are insured with CAA Insurance, we will arrange for the pick-up and towing of your vehicle from the CRC to a repair facility.
We will ensure that your claim is processed quickly and fairly, and get you back on the road as soon as possible.
Choose one of CAA's Recommended Body Shops and take advantage of our guarantee on the repair. Or, you may request an alternate facility.
Remember to exchange the following information:
full name
address
phone numbers
licence information
vehicle information
insurance company name and policy number
Important numbers.
Police and Ambulance
911
CAA Insurance Claims
CAA Roadside Assistance
GTA: 416-222-5222
Cell: *222
Available 24 hours a day, 365 days a year.