2019 results and previous winners.
Results from 2019.
In 2019, CAA's list of Ontario's Worst Roads saw Eglinton Avenue East in Toronto reach number one. Occupying this year's second-place spot is Riverdale Drive in Washago. This marks the first time a road in Washago has ranked on the list. Roads in Prince Edward County, Hamilton, Belleville, Toronto and Scugog round out Ontario's top 10 Worst Roads of 2019.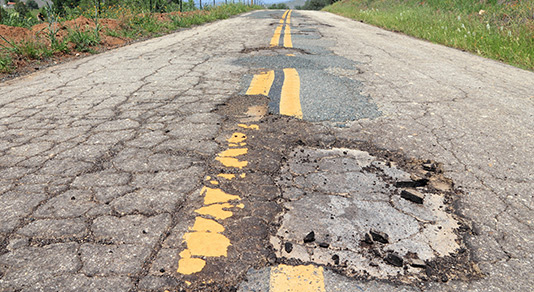 Ontario's Top 10 Worst Roads.
Here is a roundup of Ontario's Top 10 Worst Roads in 2019.
Eglinton Avenue East, Toronto
Riverdale Drive, Washago
Dufferin Street, Toronto
County Road 49, Prince Edward
Barton Street East, Hamilton
Burlington Street East, Hamilton
Avondale Road, Belleville
Sheppard Avenue East, Toronto
Carnegie Beach Road, Scugog
Bathurst Street, Toronto