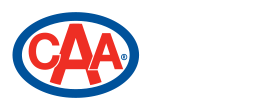 Cycling Safety Quiz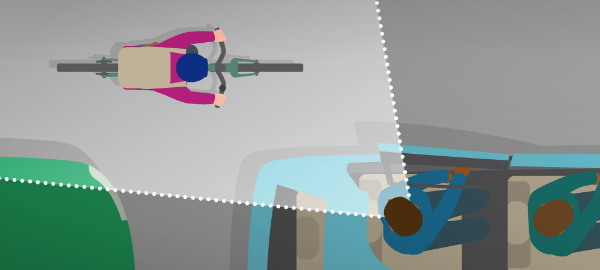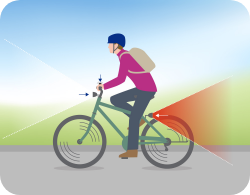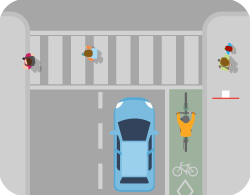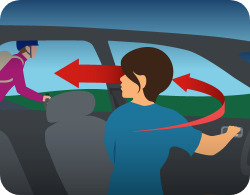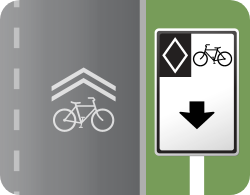 Finished!

You got out of answers correct!
Are You Ready to Share the Road?
Test your knowledge and see how you do.
Take the Quiz
Question 1
Cars must allow for 1 metre of space when passing a cyclist.
Question 1
Incorrect.
Drivers, keep a safe distance. Leave at least a 1 metre space between you and cyclists when passing. If there is not enough space in your lane, safely change lanes to pass.
Cyclists, signal your intentions and keep out of the driver's blind spot.
Question 2
Cyclists are required to have both front and rear lighting, but not a bell.
Question 2
Incorrect.
Cyclists, remember to be visible and be heard.
Install a white or amber light on the front of your bike and a flashing red light or reflector at the rear. Turn on your bike lights in low-visibility situations. Have a bell or horn attached and in good working order and use it to announce yourself to fellow riders and other road users.
It's the law. Failure to have appropriate lighting or horn on your bicycle can result in a fine of $110.
Question 3
Cyclists do not have to obey the same traffic laws or road signs that apply to drivers.
Question 3
Incorrect.
As a cyclist, you must share the road with others (e.g. cars, buses, trucks, motorcycles, etc.). Under Ontario's Highway Traffic Act (HTA), a bicycle is considered a vehicle, just like a car or truck. Cyclists:
Must obey all traffic laws and road signs
Have the same rights and responsibilities as drivers
Cannot carry passengers if their bicycle is only meant for one person.
Question 4
You can be fined for opening your vehicle door into the path of an approaching cyclist.
Question 4
Incorrect.
The penalty for unsafe practices when opening the door of a motor vehicle is a $365 fine and three demerit points upon conviction. Be safe and prevent "dooring" - practice the Dutch Reach by opening your car door with your hand furthest from the door. This turns your body to naturally check for any oncoming road users, including cyclists.
Question 5
A bike lane sign and a sharrow marking on the road have the same meaning.
Question 5
Incorrect.
A bike lane is a portion of roadway, designated by pavement markings and signage for the exclusive use of cyclists. They are often indicated by a solid line, a bike symbol and a diamond marking on the road. It is illegal for drivers to drive or park in a bike lane. Sharrows include painted arrows and bike symbols that indicate cyclists and drivers are to share the lane.
Thanks for taking the quiz!
Enter for your chance to win 1 of 5 $50 The Ultimate Dining Cards®!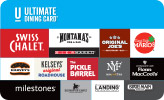 Thanks!
You've been entered in the contest.
Play again