AUto insurance
What is a total loss?
If you are involved in a collision, typically your vehicle would be considered to be a total loss when the cost to repair the vehicle is higher than the actual cash value (ACV) of the vehicle. However, it is not always practical to repair a vehicle, even if the cost of repair is less than its ACV.
Your Insurer reserves the right to determine if your vehicle will be repaired or considered to be a total loss. Factors such as vehicle safety, quality of the repair, costs and vehicle values are all considered in determining a vehicles reparability. Speaking in terms of cost vs. replace, insurers will calculate the total loss ratio (cost of repairs/actual cash value) and then compare this ratio to limits set by an industry standard of between 70 and 80%. This is known as the total loss trigger where your insurer will begin to view your loss as a potential total loss vehicle.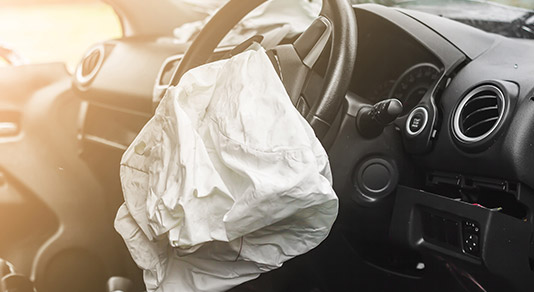 Cost of Repair > Actual Cash Value = OBVIOUS TOTAL LOSS 100%
Cost of Repair @ 70% of ACV + Salvage Value > Actual Cash Value = CONSTRUCTIVE TOTAL LOSS
If the cost to repair is greater than the vehicles ACV at the time of loss, the vehicle will be declared an obvious TOTAL LOSS. If the cost to repair is less than 100% vehicle ACV but greater than 70% vehicle ACV, then the value of the salvage becomes a factor in determining reparability.
There are many questions regarding the value of vehicles and you may have questions regarding the value of your vehicle in a total loss situation. Depending on your insurer, the value of your vehicle is determined based upon the pre-accident condition of the vehicle, the number of kilometres on the odometer, the options available on the vehicle and any damage that was not caused by the accident. Even the market is a factor, as the value of your vehicle will also be dependant on the market assessment of vehicles in the area in which the policyholder lives. Your insurance company should take all of these variables into consideration in determining the replacement cost of your vehicle.

In terms of dollars and cents, your reimbursement and deductibles will vary greatly depending on both your insurer and your auto insurance policy. If you have an Auto policy with CAA we will do our best to ensure that your experience is as simple and hassle-free as possible. A deductible would be applied as part of the settlement if it applies. After paying your deductible, we will work with you to determine whether your vehicle will be a total loss and if so, we'll do our best to make sure that the process is as straight-forward as possible for you.

In the event of a total loss, CAA Insurance will take a number of factors into consideration, including whether the car is leased, financed or wholly owned and we will reimburse the impacted parties as quickly as possible.
We will pay you, the policyholder, directly if you own the vehicle (your status as a contracted policyholder is determinative)
If the vehicle is leased, we will pay the leasing company directly.
If the vehicle is financed, we will work with you to determine the manner in which we need to proceed. If the finance company has status on your policy, payment will be co-payable to you the policyholder, and the finance company.
If your vehicle is a total loss and you have rental reimbursement coverage through CAA Insurance, we will pay for your rental vehicle subject to your policy limits. Your claims adjuster will provide you with details on when you'll need to return the rental as they work to determine the value of your vehicle. They may also provide you with guidance as to when you should begin looking for a replacement vehicle, so be sure to ask your adjuster if you have any questions.
Please note that the information provided above is general-purpose information only. It does not extend your policy coverage beyond that which is written in your policy. Please refer to your own insurance policy for specific information.
If you are involved in an accident, please contact our Claims Reporting Line at
1‑877‑222‑1717
to report your claim any time of the day or night.